The Royal Half Gameday: New York Rangers Game 5
By The Royal Half
Disclaimer -
The contents of this page have not been reviewed or endorsed by the Los Angeles Kings Hockey Club. All opinions expressed by The Royal Half are solely (and most likely) his own and do not reflect the opinions of the Los Angeles Kings or their Hockey Operations staff, parent company, partners, or sponsors. His current whereabouts are not known to the Kings and he has no access to information beyond the access and privileges that go along with being a half-season ticket holder
BEST PLAYER TO WEAR BOTH COLORS THAT TRH HAS SKATED WITH:
BEST OPPOSITION BLOGS:
BEST OPPOSITION TO FOLLOW ON TWITTER:
WORST OPPOSITION TO FOLLOW ON TWITTER:
THE ROYAL HALF GAMEDAY PREVIEW GIF OF THE DAY: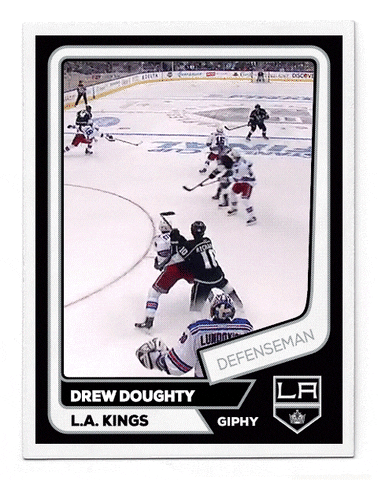 Ok, this is all kinds of awesome.
GAME 4 RECAP ATTACK:
The Royal Half TweetCap™ & Podcast
LA Kings Dot Com Recap and Tweets Of the Game!
LA Kings Insider's Waking Up with the Kings
The New York Rangers Blog Recap
HAVE THE KINGS WON THE STANLEY CUP?:
LooKING Back:
It was the most time Snow has been talked about
since 1992
...
Let us be the first to celebrate New York City's newest national hero!
So instead, the Stanley Cup Final moves back to Los Angeles. And you know what tonight is, right?
Let's just get this over with. Of course, I'm talking about more "Because It's The Cup" moments with Indiana Matt!!!
Get your high-rez versions here.
The LA Kings could win their 2nd Stanley Cup in 3 seasons tonight in Los Angeles. I think you all know what that means...
As created by Jesse Cohen from All The Kings Men Podcast... The Moulson Index™ highlights an opposing player from tonights game who has the opportunity to score against his former employer, the LA Kings.
Tonight's Moulson Index Spotlight is:
BRIAN BOYLE, CENTER
In 10 games versus the LA Kings in his career, Boyle has 1 GOAL & 2 ASSISTS
DANIEL CARCILLO, LEFT WING
In 18 games versus the LA Kings in his career, Carcillo has 1 GOAL, 4 ASSISTS & 73 PIMs
THE ROYAL HALF GAMEDAY PREVIEW TWEET OF THE DAY
LA local news stations, forever...
To be fair… There are a LOT of Sutter brothers. pic.twitter.com/eyWzKThjgj — Indiana_Matt (@Indiana_Matt) June 13, 2014
Thanks to @ZackaryM who found this on ABC 7 last night.
The Royal Half has been a Los Angeles Kings fan since 1988 and a Half-Season Ticket Holder since 2002. He has seen the following goaltenders play in person for the Los Angeles Kings… Kelly Hrudey, Grant Fuhr, Byron Dafoe, Jamie Storr, Stephane Fiset, Felix Potvin, Cristobal Huet, Roman Cechmanek, Mathieu Garon, Adam Hauser, Jason LaBarbera, Barry Brust, Sean Burke, Dan Cloutier, Yutaka Fukufuji, Jean-Sebastien Aubin, Erik Ersberg, Jonathan Bernier, Jonathan Quick, Ben Scrivens, and Martin Jones. If you like the hockey equivalent of dirty jokes or enjoy humorous screen-grabs of NHL players and broadcasters with funny captions... man, you are going to like The Royal Half. You can follow The Royal Half on Twitter at @TheRoyalHalf